Adulting is hard.
The past few months have been, well, completely nuts in all of the best and worst ways. We've had some super highs and some really low lows and well, that's just being an adult.
I can't say I particularly care for adulting. It's all bills and cleaning and working and blah. Being the kid at heart that I am, I wind up feeling trapped as I am often held back from doing what I really want to do since, ya know, #responsibilities.
My personal financial goal is to make enough money to not have to worry about money. I'm not sure that will ever really happen. But, I'm here to find the sunshine hiding behind the clouds.
Yes, adulting can be really difficult and suck the life out of you.
I'm not here to air my dirty laundry or bore you to death about student loans (just kill me, ugh) but I WILL tell you a couple of fun stories.
The past few days, I have failed majorly and dealt with some troubles.
Last weekend, Sky and I had a wonderful day exploring Captiva Island. We went to a really cool restaurant, did some shopping and watched the sunset on the beach. We also found some really cool shells!
Also at the beach that we were not alerted to: some really nasty bugs.
After the fact, I discovered they are referred to as "no see ums." They are really tiny bugs that look like little black specks. They
will
suck your blood and it
will
hurt. Unfortunately, you probably won't realize they're there until after they've bitten you.
Let me just say, I've spent the better part of the last five days looking like a freaking leopard and scratching my skin off. I literally just wanted to dunk myself in a bath of calamine lotion and just stay there.
Having to work all day while wanting to do nothing more than scratch every inch of my body was rough. It really sucked. As I write this, I'm still itchy in some places, but not nearly as bad as the absolute hell I went through on the first couple days.
Anywho, adult fail number one: Didn't do my research, didn't bring bug spray. OUCH.
On the funnier and relatively sadder side of things, I have been trying SO. DAMN. HARD. to have dinner cooked for Sky when he gets home. His schedule has changed (also a sucky part about being an adult) and now I'm home about two hours before him. We used to cook together, but it's just too late to eat by the time he gets home. So now, me, the absolute novice of a cook, is in charge.
So last week I went to cook something I thought I bought but never actually got it so yeah. I heated up a pizza instead.
But the real kicker was last night's fiasco. The meal I was making literally could not have been easier: toss some corn and potatoes into the pan, season, plop in the chicken, season then bake. Bam, done.
This was a big step for me as a cook, since I have a huge aversion to touching raw meat. Don't ask me why, it just grosses me out. But I figured I could stomach just literally transferring the chicken from the packet to the pan.
Well, see, that right there, was my downfall. I cut open the packet to drain the juice so I didn't get it everywhere when taking out the chicken. I did this over the sink. If you don't already see where this is going, then boy you are in for a treat. I held tight to the chicken and gently poured the juices out. The next thing I know, JUST as I was about to take the chicken over to the stove to put on the pan, one of those slippery little buggers made its way out of the packet, into the sink and straight down the garbage disposal.
It was like slow motion. I screamed
NOOOO
as I watched it slide away from my grasp so fast there was no saving it.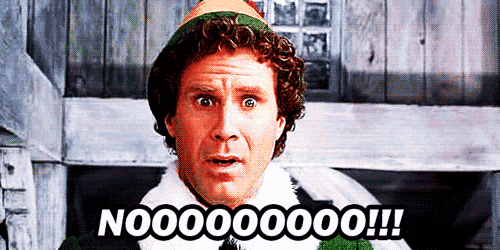 Luckily, I got some adulting points for finding a solution to my problem instead of doing what I really wanted to do, which was give up, cry and order a pizza. But the food actually turned out good and I gave everyone a great, ole laugh, including myself.
Therein lies the point of me telling you all of this. To get through everyday life as an adult and not be miserable every time something doesn't go your way, try your best to appreciate what you DO have and try not to dwell so much on what you don't have, can't do or screwed up.
If you mess up or just have a problem that is weighing down on you, find a solution. Do your research and get it done. If you're having a bad day, do something that makes you happy or even just makes you smile or laugh. Something as simple as watching stupid cat videos on YouTube can really make a difference in your mood! If you get yourself in a better mood, the obstacle you're facing will be easier to overcome!
Thank you for coming to my TED Talk.
XOXO, Briana